Itsukushima Shrine
A mysterious torii that floats on the sea
2 hours by JR from Osaka to Miyajimaguchi
Tottori Sand Dunes
Did you know that there are dunes in Japan?
JR 2.5 hours from Osaka to Tottori

In order to enjoy safe sightseeing in Japan, let's enjoy the next popular spot instead of the standard spot that many people visit!
Chugoku Region is not yet known to many foreigners, but there are many tourist attractions that are also popular on TripAdvisor.
Along the JR Railway, there are various sightseeing spots such as World Heritage Sites, Japan's leading shrines, existing castles, traditional Japanese streets, animation-related facilities, sand dunes, etc., making it an ideal area for sightseeing using public transportation. Introducing recommended courses for sightseeing in Chugoku Region and convenient sightseeing & transportation passes!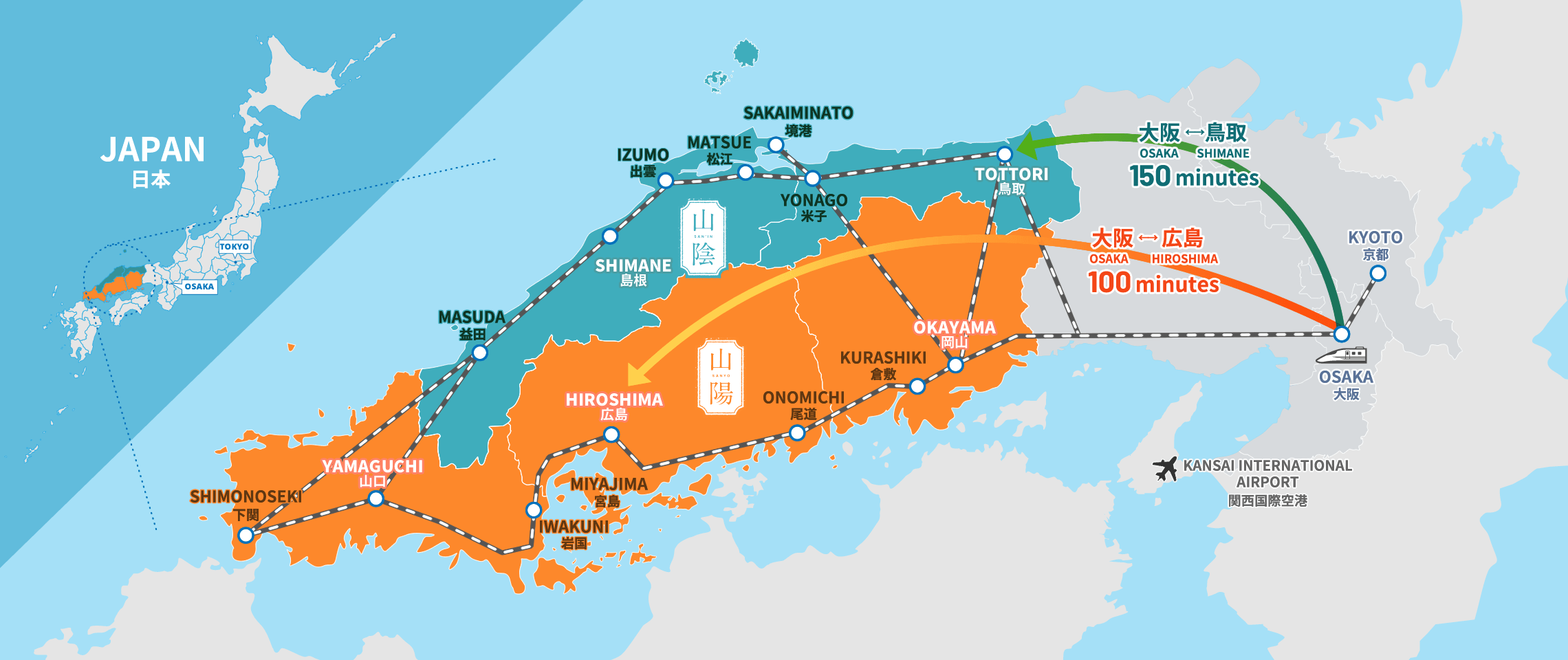 DETAIL
Learn more about Sanin and Sanyo
From Osaka to Sanin (Tottori, Shimane)

Sanin (Tottori, Shimane) is a tourist spot where you can feel the history and culture of Japan, such as "Nature such as Tottori Sand Dunes and Mt.DAISEN", "Cartoon-related tourist spots such as Conan and Kitaro", and "Matsue Castle and Adachi Museum of Art". It is an area where you can enjoy various kinds of things such as.
Examples
Tottori Sand Dunes

Matsue Castle

Gosho Aoyama Manga Factory

Mizuki Shigeru Road

Matsuba crab

Wagyu beef
From Osaka to Sanyo (Hiroshima, Okayama, Yamaguchi)

In Sanyo (Hiroshima, Okayama, Yamaguchi), there are many "popular tourist spots in Japan that you want to visit at least once" such as the World Heritage site Itsukushima Shrine and the Atomic Bomb Dome. In addition, it is an area where "photogenic tourist spots" such as Kurashiki Bikan Historical Quarter and Korakuen gather.
You can also enjoy local dishes such as seasonal fruits, oysters, and okonomiyaki.
Typical examples
Itsukushima: World Heritage Site, Maritime Shrine and Otorii

Kurashiki Bikan Historical Area: Beautiful white-walled cityscape, historic romance and art

Japan's three largest gardens "Korakuen"

Japan's three famous bridges "Kintai Bridge"

Hiroshima-yaki

Peach parfait
Recommended Tour Course
Recommended Tour Course
EXPLORE
You can arrange the course to your liking!
Some arrangement examples.
TRAVEL PASS
A travel pass that allows you to conveniently travel around the Chugoku region by using a set