Itsukushima Shrine,
Miyajima
A sacred shrine with iconic "floating" torii gate
2-hour JR train ride from Osaka
Tottori
Sand Dunes
Spectacular sand dunes overlooking a picturesque sea
2.5-hour JR train ride from Osaka
A trip using attractions pass and transport pass

Beat the crowds and travel with safety.
Come see the charms of the unknown Japan The Chugoku Region is a barely explored tourist gem!
Dotted along the JR railway line are numerous sightseeing spots highly rated on TripAdvisor.
World Heritage Sites, Japan's leading shrines, historic castles, traditional Japanese streets,
anime facilities, and sand dunes are at your fingertips.All accessible by public transportation.
Check out our recommended courses to make planning your trip a simple button click away.
Sightseeing and transportation passes are available for added convenience on your travels!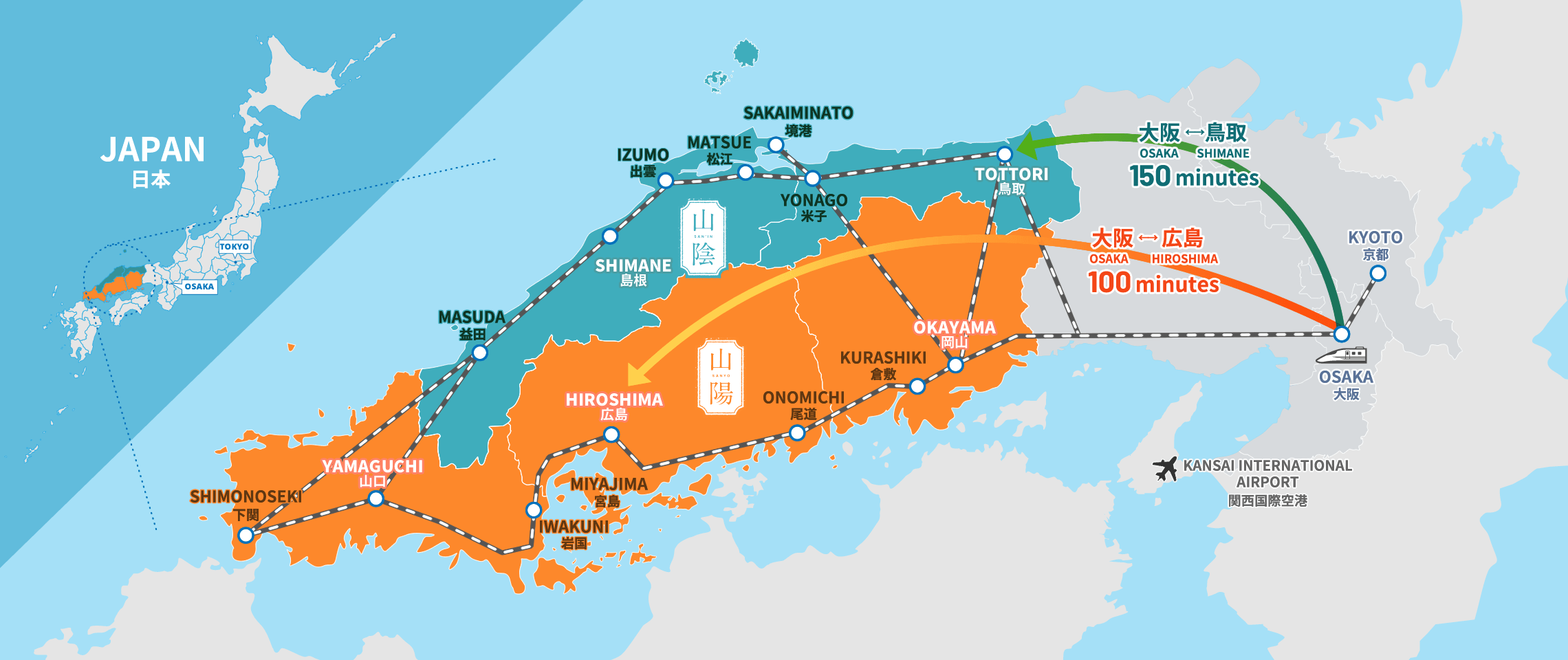 DETAILS
Learn more about San'in and Sanyo
From Osaka to San'in (Tottori, Shimane)

What does San'in have to offer? From Nature to historical and cultural experiences come see it all! Nature lovers will be blown away by Mt. Daisen and the Tottori Sand Dunes. GeGeGe no Kitaro and Detective Conan's authors' hometowns are a must see for anime fans. The national treasure Matsue Castle and highly acclaimed Adachi Museum of Art are also iconic draw cards for visitors. Surrounded by pristine seas and mountains affords the region high quality cuisine. Foodies will be in heaven with the Tottori Wagyu (beef) and snow crabs that are some of the highlights.
Examples
Tottori Sand Dunes

Matsue Castle

Gosho Aoyama Manga Factory

Mizuki Shigeru Road

Matsuba crab

Wagyu beef
From Osaka to Sanyo (Hiroshima, Okayama, Yamaguchi)

Did you know the 2nd and 3rd best attractions in Japan in 2019 as voted by international travelers on Trip Advisor are in Hiroshima?
These World Heritage Sites; Hiroshima Peace Memorial Museum and Itsukushima Shrine are the gateway to an area rich in cultural and historical sites: Kurashiki Bikan Historical Quarter and Hagi Castle Town to name but a few. Don't miss out on the juicy peaches and delectable muscat grapes in Okayama, fresh oysters, or the iconic Japanese okonomiyaki particularly popular in Hiroshima.
Typical examples
Itsukushima: World Heritage Site, Maritime Shrine and Otorii

Kurashiki Bikan Historical Area: Beautiful white-walled cityscape, historic romance and art

Japan's three largest gardens "Korakuen"

Japan's three famous bridges "Kintai Bridge"

Hiroshima-yaki

Peach parfait
Recommended Tour Courses
Recommended Tour Courses
EXPLORE
You can arrange the course to your liking!
Some arrangement examples.
TRAVEL PASS
A travel pass that allows you to conveniently travel around the Chugoku region by using a set