Experience the gastronomic world of fine local Japanese cuisine.
Enjoy the delicacies in each prefecture and delight your tastebuds with every bite.
The photogenic locations will inspire the photographer inside and leave you with memories to take home and share.
Use the model course and plan your own trip to visit all of your preferred locations.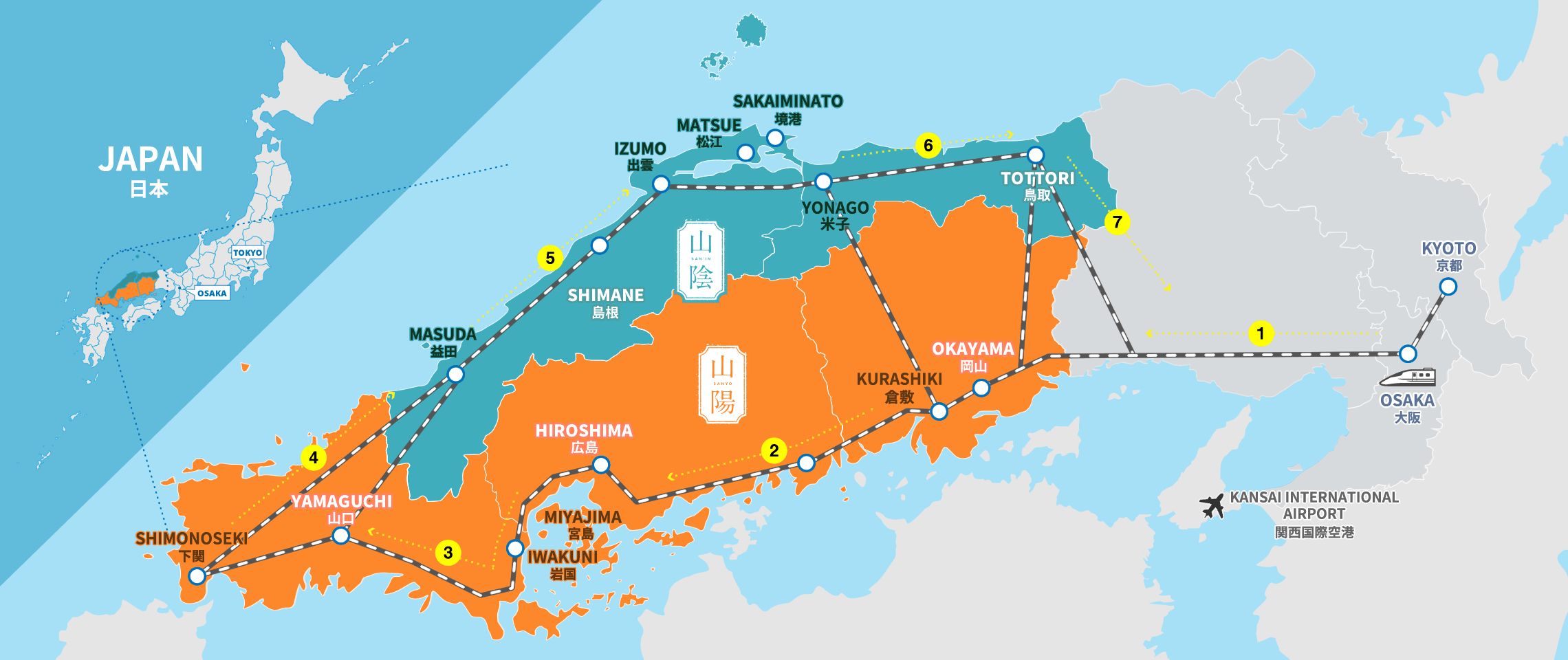 Trip planner application: Trip Packer
Check all the details of the different courses on Trip Packer.
Download the sample courses, edit and customize them just to your liking.
The world is your oyster with this handy app.
 "Discover Another Japan Pass" available
 "JR-west rail pass" available
Get general travel information about the attractions that are covered
by Discover Another Japan Pass by downloading the app
DAY1

About 12:50

Shin-Osaka Station
Okayama Station

(About 50 minutes)

About 14:00
Okayama Korakuen
About 4 minutes by train from Okayama Station to Higashiyama, 10 minutes after getting off at [Jonoshita Station] About 10 to 15 minutes on foot / or by bus

About 15:30

Okayama Station
Kurashiki Station

(About 20 minutes)

About 16:10
Ohara Museum of Art
About 15 minutes on foot from Kurayoshi Station

About 18:30

Kurashiki Station
Okayama station

(About 10 minutes)

Okayama's favorite gourmet: Fruit parfait
DAY2

About 7:50

Okayama station
Hiroshima station
Miyajimaguchi Station

(About 70 minutes)

About 9:40

Miyajimaguchi Port


(JR West Japan Ferry)

Miyajima Port

(About 10 minutes)

About 9:50
Miyajima Misen Daisho-in
(experience copying Buddhist scriptures and tracing Buddhist images)
About 30 minutes on foot from Miyajima Bridge

About 13:00
Misen (Miyajima)
10 minutes from Miyajima Ropeway Momijidani Station, get off at Shishiiwa Station

About 15:20

Miyajima Port


(JR-West Miyajima Ferry)

Miyajimaguchi Port

(About 10 minutes)

About 15:40

Miyajimaguchi Station
Hiroshima Station

(About 20 minutes)

About 16:30
Orizuru Tower
About 11 minutes from Hiroshima Station Shinkansen Exit (Platform 2) on the Hiroshima City Circulation Bus "Meipurupu" (get off at "Atomic Bomb Dome Mae")

About 12 minutes by Hiroshima sightseeing loop bus from Hiroshima Station

About 18:10

Hiroshima station
Okayama station

(About 40 minutes)

Hiroshima's recommended gourmet: Hiroshima-yaki
DAY3

About 7:30

Okayama station
Kokura station
Shimonoseki Station


(About 100 minutes)

About 9:50
Shimonoseki Rental Bicycle (JR West Car Rental & Leasing)
Let's rent a bicycle and go to the lovers' sanctuary "Kaikyo Yume Tower" and "Karato Market"!
Close to Shimonoseki Station

About 11:10
Karato Market
Fukunoseki Seafood Market Kamon Wharf
* Karato Market and Kamon Wharf are adjacent

About 13:00

Shimonoseki Station
Shin-Shimonoseki Station
Shin-Iwakuni Station

(About 60 minutes)

About 14:30
Kintaikyo Bridge
About 15 minutes by bus from Shin-Iwakuni Station

About 16:00
Iwakuni International Tourist Hotel
About 15 minutes by bus from Shin-Iwakuni Station
you can enter the hot spring where you can see Kintaikyo Bridge.

About 18:45

Shin-Iwakuni Station
Okayama station

(About 70 minutes)

Shimonoseki's recommended gourmet: Fugu dishes
DAY4

About 7:10

Okayama Station
Shin-Yamaguchi Station
Hashi Station

(About 160 minutes)

About 12:20
Shimane Aquarium AQUAS
About 12 minutes on foot from Hashi Station

About 15:20

Hashi Station
Yonago Station

(About 110 minutes)

Yonago's favorite gourmet: Wagyu beef
DAY5

7:20

Yonago Station
Matsue Station

(About 40 minutes)

About 8:15
Matsue Horikawa Pleasure boat
15 minutes by lake line bus from Matsue Station, get off at "Otemae Horikawa Pleasure Boat Platform"

10:50

Matsue Station
Yasugi Station

(About 15 minutes)

About 11:20
Adachi Museum of Art
20 minutes by free shuttle bus from Yasugi Station

About 14:40

Yasugi Station
Yonago Station
Sakaiminato Station

(About 60 minutes)

About 16:00
Mizuki Shigeru Road
Close to Sakaiminato Station

About 18:15

Sakaiminato Station
Yonago Station

(About 50 minutes)

Matsue's recommended gourmet: Soba
DAY6

About 8:20
Tottori Prefectural Flower Park
About 25 minutes by free shuttle bus from Yonago Station

About 12:10

Yonago Station
Tottori Station

(About 60 minutes)

About 14:30
Tottori Sand Dunes The Sand Museum
About 20 minutes by bus from Tottori Station Bus Terminal and get off at "Sand Museum"

About 16:00
Tottori Sand Dunes
About 20 minutes by bus from Tottori Station ("Iwami / Iwai Line" or "Sand Dunes Line")

About 20:30

Tottori Station
Yonago Station

(About 60 minutes)

Tottori's recommended gourmet: crab dishes
DAY7

About 8:10

Yonago Station
Okayama Station
Shin-Osaka Station
Osaka station
Shin-Imamiya Station
JR Namba Station


(About 240 minutes)

About 15:00
Kuromon Market
5 minutes walk from Osaka Metro "Nippombashi Station"

Osaka's recommended gourmet: Kushikatsu
TRAVEL PASS
Convenient travel pass(Recommended to use as a set)