From the ancient to the modern get a taste of all that is Japan.
Immerse yourself in the technology and culture as you dive through the traditional
and pop out into the modern while exploring the offered sites and activities.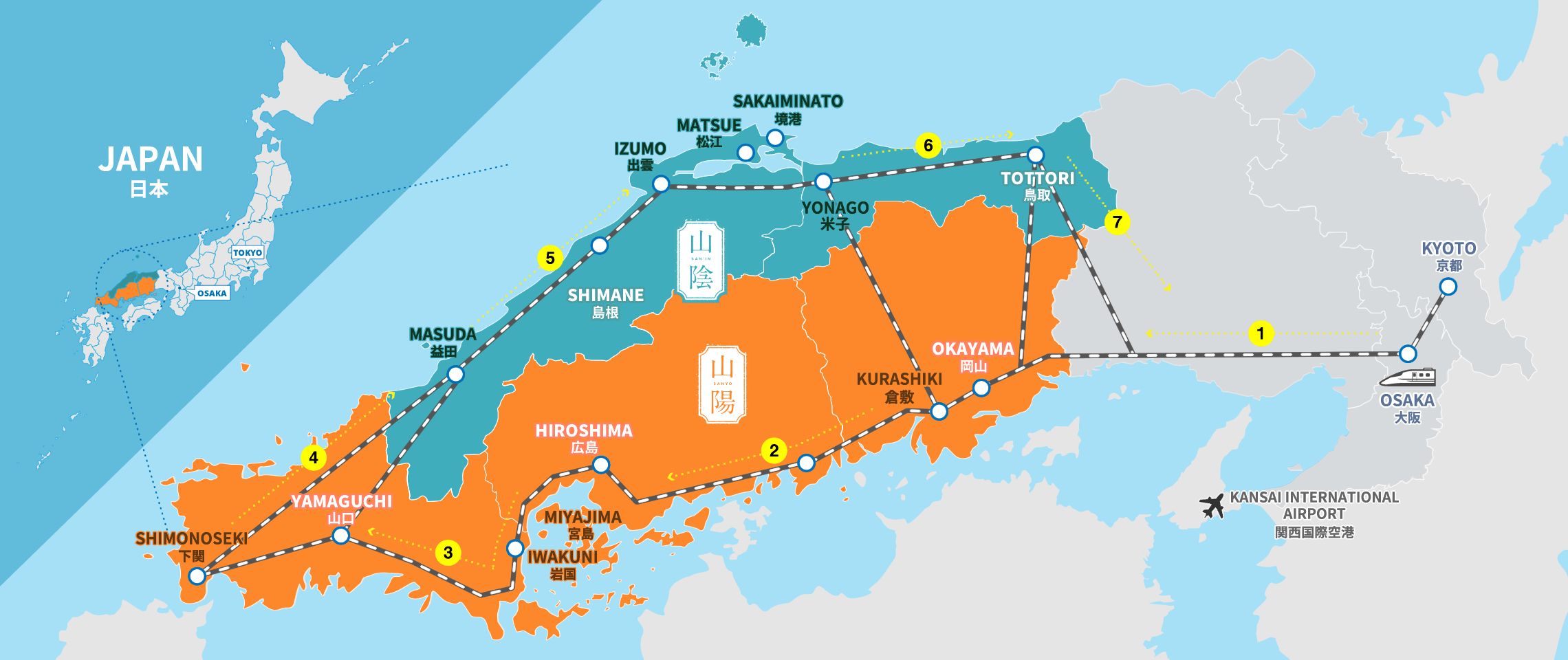 Trip planner application: Trip Packer
Check all the details of the different courses on Trip Packer.
Download the sample courses, edit and customize them just to your liking.
The world is your oyster with this handy app.
 "Discover Another Japan Pass" available
 "JR-west rail pass" available
Get general travel information about the attractions that are covered
by Discover Another Japan Pass by downloading the app
DAY1

About 12:50

Shin-Osaka Station
Kyoto Station

(About 45 minutes)

About 13:50
Kyoto Railway Museum
About 20 minutes on foot from Kyoto Station

About 16:00

Kyoto Station
Inari Station

(About 6 minutes)

About 16:30
Fushimi Inari Taisha
Immediately after getting off at Inari Station

About 18:00

Inari Station
Kyoto Station

(About 6 minutes)
DAY2

About 7:50

Kyoto Station
Okayama Station

(About 70 minutes)

About 9:30
Okayama Korakuen
About 4 minutes by train from Okayama Station to Higashiyama, 10 minutes after getting off at [Jonoshita Station] About 10 to 15 minutes on foot / or by bus

About 11:20

Okayama Station
Kurashiki Station

(About 16 minutes)

About 12:50
Ohara Museum of Art
About 12 minutes on foot from Kurashiki Station

About 13:50
Japan Folk Toy Museum
About 13 minutes on foot from Kurashiki Station

About 14:30

Kurashiki Station
Okayama Station
Shin-Iwakuni station

(About 70 minutes)

About 17:00
Kintaikyo Bridge
About 15 minutes by bus from Shin-Iwakuni Station

About 18:00
Iwakuni International Tourist Hotel
About 15 minutes by bus from Shin-Iwakuni Station
you can enter the hot spring where you can see Kintaikyo Bridge.

About 20:00

Shin-Iwakuni Station
Hiroshima Station

(About 15 minutes)
DAY3

About 9:30
Shimanami Hopping Pass(Shimanami cycling)
Redeem at Onomichi Station Tourism Association.
4 minutes walk from Onomichi Station.
Let's spend a day enjoying cycling on the Shimanami Kaido!

About 18:50

Onomichi station
Mihara Station
Hiroshima Station


(About 50 minutes)
DAY4

About 8:30

Hiroshima Station
Shin-Yamaguchi Station

(About 35 minutes)

About 9:30

Shin-Yamaguchi Station

(bus)

Higashihagi Station

(bus)




(About 00 minutes)

Chugoku JR Bus from Shin-Yamaguchi Station to Higashi-Hagi Station can be boarded with a JRW pass.

About 10:50
Hagi rental cycle
Immediately after getting off at Hagi Station

About 13:00
Kikuya House
About 15 minutes by bicycle from Hagi Station

About 13:30
Shokasonjuku Academy
About 15 minutes by bicycle from Hagi Station

About 18:00

Higashihagi Station
Masuda Station
Matsue Station

(About 270 minutes)
DAY5

About 8:30
Matsue castle
10 minutes by "Lake Line" bus from Matsue Station

About 9:10
Matsue Horikawa Pleasure boat
15 minutes by lake line bus from Matsue Station, get off at "Otemae Horikawa Pleasure Boat Platform"

About 10:50

Matsue Station
Yasugi Station

(About 15 minutes)

About 12:00
Adachi Museum of Art
20 minutes by free shuttle bus from Yasugi Station

About 14:20

Yasugi Station
Yonago Station
Sakaiminato Station

(About 60 minutes)

About 16:00
Mizuki Shigeru Museum
About 10 minutes on foot through "Mizuki Shigeru Road" just off Sakaiminato Station

About 18:00

Sakaiminato Station
Yonago Station
Matsue Station

(About 60 minutes)
DAY6

About 8:50

Matsue Station
Yonago Station
Yura Station

(About 100 minutes)

About 10:30
Gosho Aoyama Manga Factory
About 20 minutes on foot or 5 minutes by taxi from Conan Station (JR Yura Station)

About 13:20

Yura Station
Tottori Station

(About 60 minutes)

About 15:10
Tottori Sand Dunes The Sand Museum
About 20 minutes by bus from Tottori Station Bus Terminal and get off at "Sand Museum"

About 16:10
Tottori Sand Dunes
About 20 minutes by bus from Tottori Station ("Iwami / Iwai Line" or "Sand Dunes Line")

About 18:30

Tottori Station
Osaka Station

(About 150 minutes)
DAY7

About 9:00

Osaka Station
Shin-Imamiya Station
JR-Nanba Station

(About 60 minutes)

About 10:00
Kuromon Market
5 minutes walk from Osaka Metro "Nippombashi Station"

About 16:50
Tsutenkaku Tower
JR Osaka Loop Line Shin-Imamiya Station East Exit (7 minutes walk)
TRAVEL PASS
Convenient travel pass(Recommended to use as a set)